WHEELING - OHIO COUNTY - WEST VIRGINIA
Temple Shalom - Congregation L'Shem Shomayim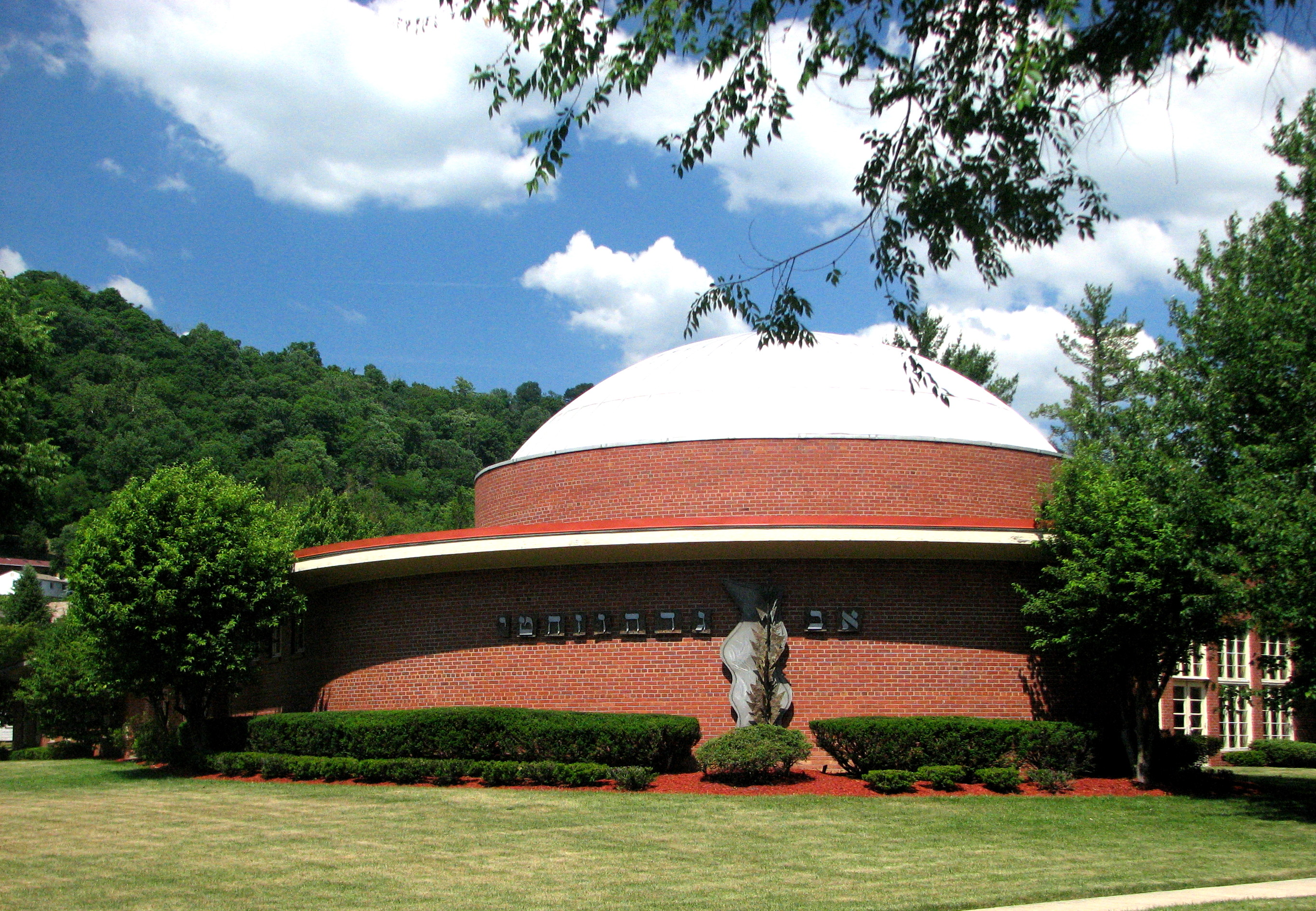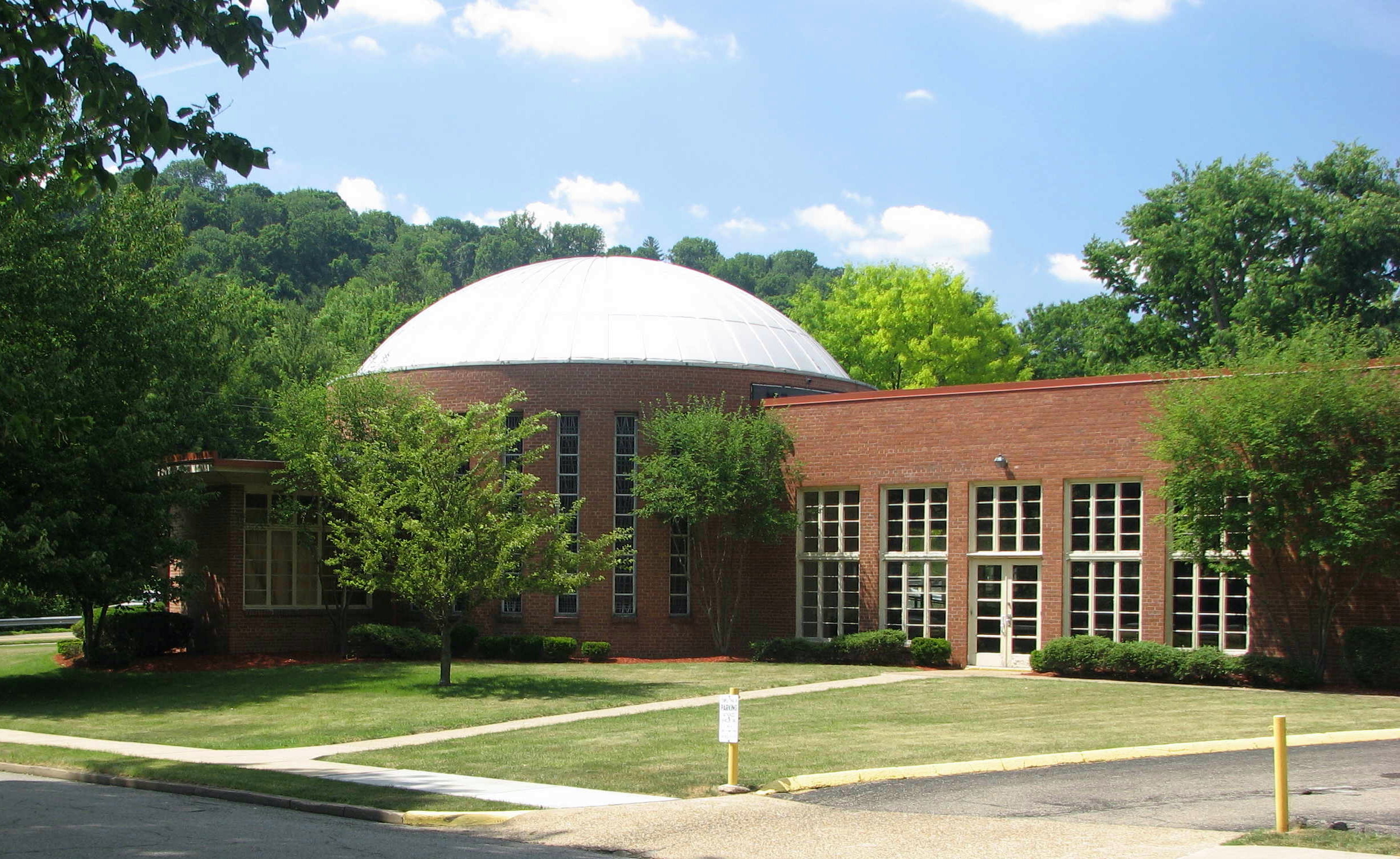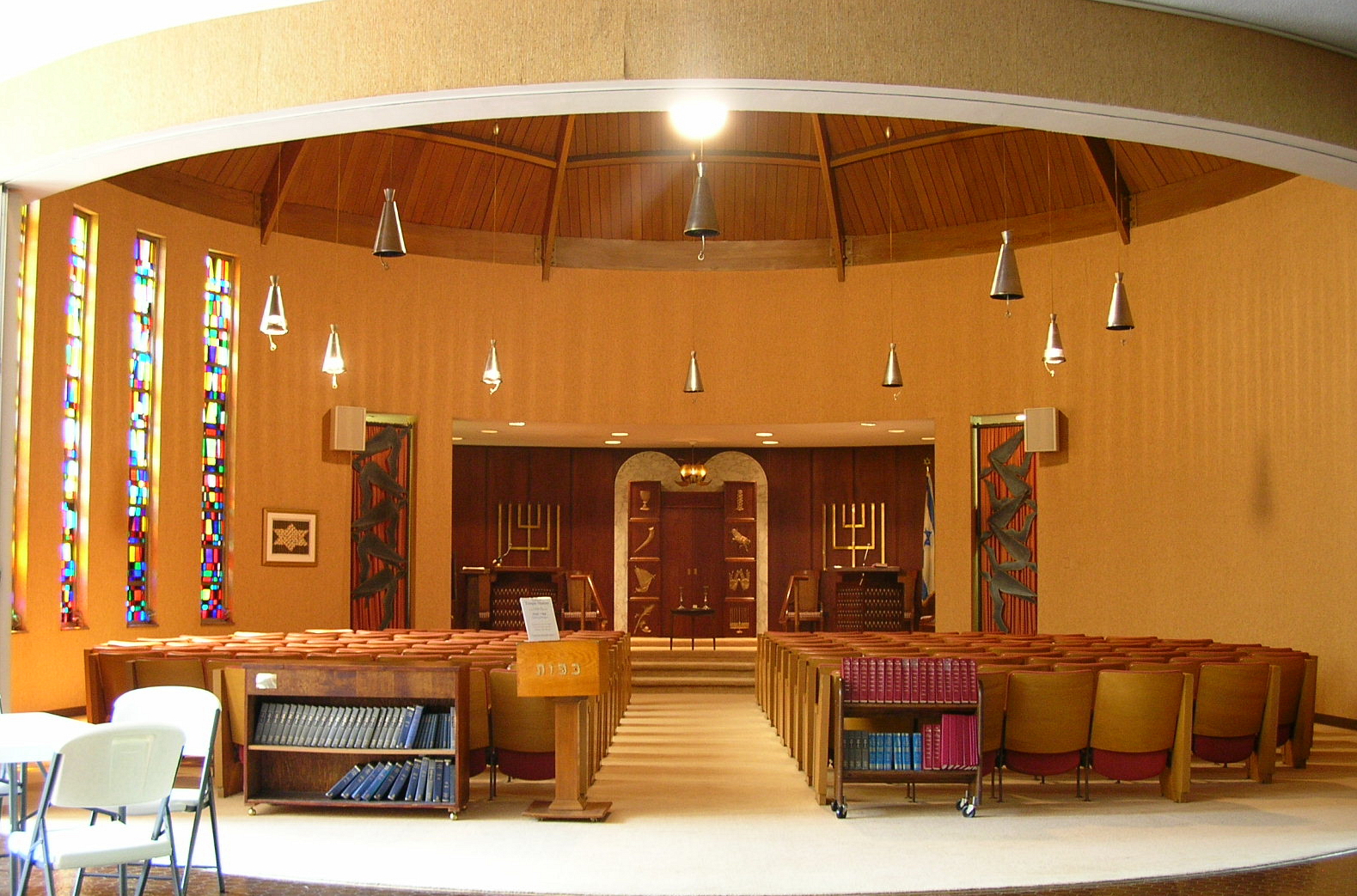 Temple Shalom - Exterior & Interior ca. 2008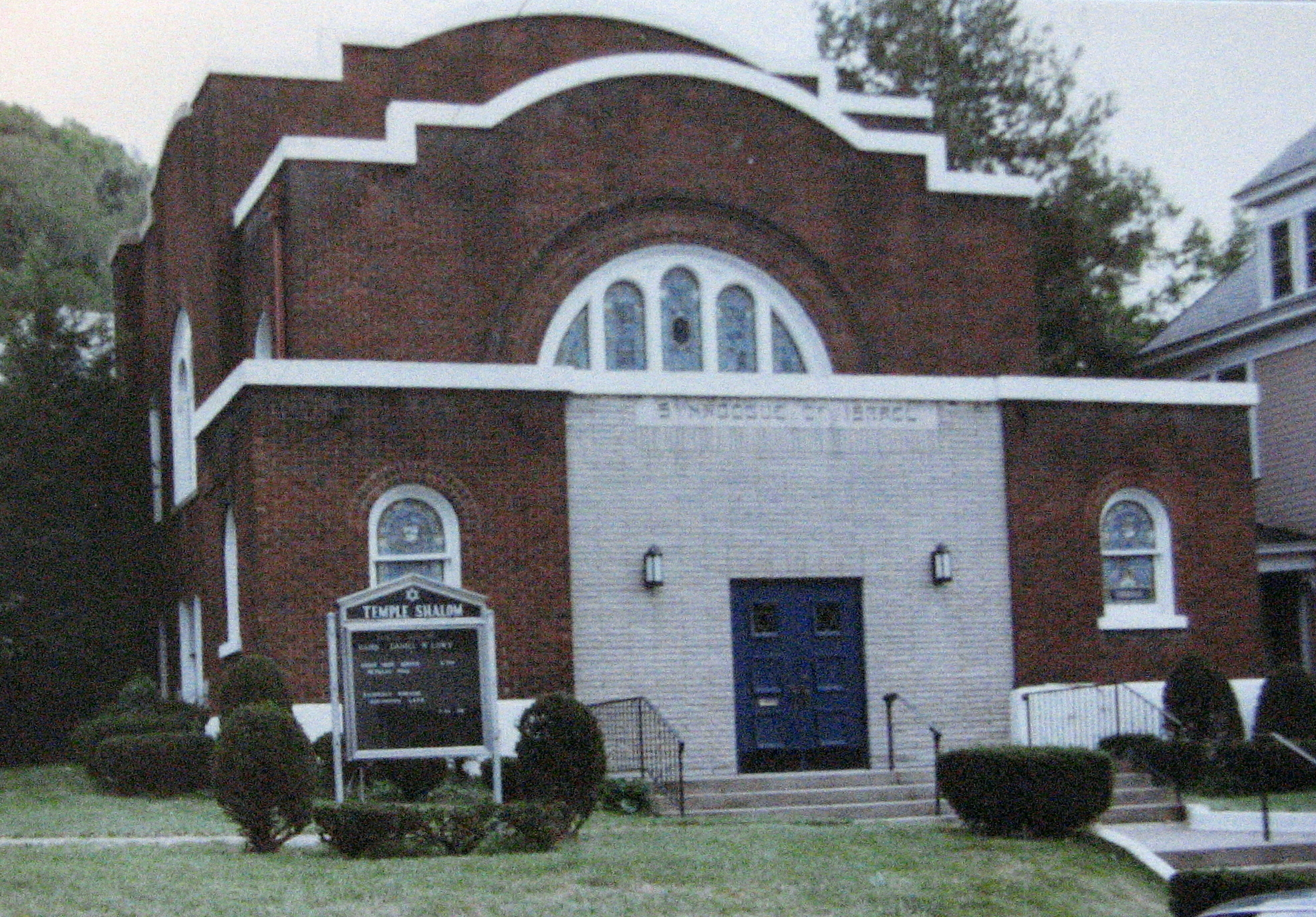 Former Synagogue of Israel
Former Eoff Street Temple of Congregation L'Shem Shomayim
Synagogues & Cemeteries
-Temple Shalom - Congregation L'Shem Shomayim, founded in 1849. Current Building 1957. Present congregation is a
merger of Eoff Street Temple and Congregation of Israel
-Synagogue of Israel (former bldg) 115 ½ Edington Lane – extensively remodeled and changed
-Mount Wood Hebrew Cemetery, founded in 1849, Reform and Orthodox sections
-Jewish Memorial Park - Triadelphia - former Synagogue of Israel cemetery
-Greenwood Cemetery - Jewish Section - National Road, Wheeling
Jewish-Owned Stores & Businesses
Simon Baer's Sons, Inc. - wholesale grocers & coffee roasters, f. prior to 1890 by Henry, Marcus & Bernard Baer. Later
run by Henry's sons Benjamin & Joseph H. Baer. Also known as Baer & Sons Grocer and Baer Grocer Company
Baer's Pharmacy - established in 1905 at 12th and Chapline Streets by Herbert Baer.
Banov Sporting Goods - est. by David Banov in 1908, joined in business in 1932 was son Robert who died in 2005 and the
store was closed. Located at 30 Twelfth Street and later at 1223 Market Street. Sporting goods, guns, ammunition.
Also known more recently as R. Banov Guns & Ammo, Inc. The Banov Family also owned a jewelry store, a foreign
car dealer, pawn shop and a shoe store
Bernhardt's Men's Clothing - 1225 Market Street, est. 1893
Bloch Brothers Tobacco Warehouse - founded in 1879 by Samuel S. & Aaron Bloch. First at 1501-1503 Main Street
Bloch's ? Wholesale Grocery & Dry Goods - Main Street bet. 15th & 16th St. f. by Aaron & Samuel Bloch before 1879
Broida, Stone & Thomas Department Store - original partner was Jewish??
The Children's Shop - owned and operated by the Mendelson Family
Dan Cohen Shoes - Market Street
Crone's Clothier's, Ltd. - known in 1941 as "Max Crone & Co" at 1310 Market Street
Crown Stogie Company - established by Augustus Pollock in 1871. Manufacturing plant on Water Street
Golden's ?Army & Navy Store - operated by the Golden Family
L.S. Good & Company - 1132-36 Main Street. Department Store est. in 1884 by Lee S. Good.
M. Gutman & Company - wholesale & retail clothiers, est. by David Gutman prior to 1890.
Gutman Advertising. LLC - 201 Edington Lane (2005)
Horkheimer Brothers Wool Company
S. Horkheimer & Son - established in 1848, wholesale foods and spices
Horne's Women's Clothing Store - 11th & Main Streets, Fred Horne
The Hub Gift Center - ca. 1941
Imperial Display Co., Inc. - 1110 Main Street - owned and operated by the Mendelson Family, closed pre 2005
Kaufman's Bridal Store
Kline Brothers - The Reliable Clothiers - 34 12th Street, founded prior to 1882
Levenson Furniture
Pacific Flour Mills - Market & 14th Street, owned & operated by M & J Pollack, est. before 1886
Penn Jewelry Company - 1222 Market Street
Pollack Tobacco Company - established by Augustus Pollack
Posin's Fine Jewelers - 2 stores run by 2 brothers started by their father in 1923. [2005] - 1306 Market Street, 20 Elm
Terrace, also Posins-Diamond Center, located at 1125 Market Street
Reichart Furniture Store - 1121 Main Street, owned and operated Robert, Donald & Edgar Levenson. Branches were
located in Washington PA. Moundsville, W, Martins Ferry, OH. and Parkersburg, WV
The Retail Furniture Company
A. L. Rice & Company - established by Albert L. Rice
Rubin Brothers Army Navy Store - 1104 Main Street
Rudner Furniture Company - owned and operated by Sam Rudner
Schenks -
Schlesinger Insurance - Charles & Milton Schlesinger
Sonneborn Corporation - begun by Moses Sonnenborn in the late 19th century
Superior's Clothing - 1045 Main Street
Walk-Over Boot Shop - 1129 Market Street, ca. 1915, owned/operated by Morris Jacob's & Son
Wheeling Antenna Company - est. in 1952 by Donald Levenson
Wheeling Mattress Company - Charles and Leo Wolf
Wiener Office Equipment - 40 14th Street

Nearby Bellaire, Ohio
Berman's Men's Store - Louis Mendelson
Other Sites & Places of Jewish Interest
Wheeling Park & Oglebay Park - among the men who purchased land and begun in 1924 the establishment of this historic
park and recreation area was Charles Sonneborn.
The Good Zoo - est. by Mr. & Mrs. Laurence Good in memory of their son, Phillip.
Good Lake, -Levenson Picnic Shelter, Sonneborn Picnic Shelter, Sonneborn Field, Sonneborn Gates
L.S. Good House, 95 14th Street, 1904 (Private House)
Charles J. Wolf Playground - 10th & Chaplain Street - memorial by sister, Ruth Wolf Levi
Ruth Wolf & Rabbi Harry Levi Games Court - Mount de Chantal Visitation Academy
Trades & Labor Monument - Honoring Augustus Pollack, tobacco manufacturer, labor leader and first president of
Congregation L'Shem Shomayim in 1849. Located in Kossuth Park, the monument was erected by the employees of
the Pollack Tobacco Company
Oglebay Institutes Glass Museum - glass cases in museum are from the former Banov Jewelry Store in Wheeling.
Jewish Families
Among the earliest Jewish families in Wheeling were the Aub, Ballenberg, Bloch, Heyman, Horkheimer, Moss, Rheinstrom, and Sonneborn. Other early Jewish families in Wheeling include: Baer, Buckman, Cohen, Crone, Good,, Cohen, Emsheimer, Hanauer, Jacobson, Kaufman, Kline, Kraft, Krauss, Levi, Mayer, Posin, Raduziner, Reich, Reed, Reichart, Rice, Rosenbloom, Schwabacher, Schlesinger, Speyer, Stein, Wolf
© 2004-2020 - Julian H. Preisler - All Rights Reserved
NOTE: No material from this website may be used or downloaded without permission