THE SYNAGOGUES OF
CENTRAL & WESTERN PENNSYLVANIA:
A VISUAL JOURNEY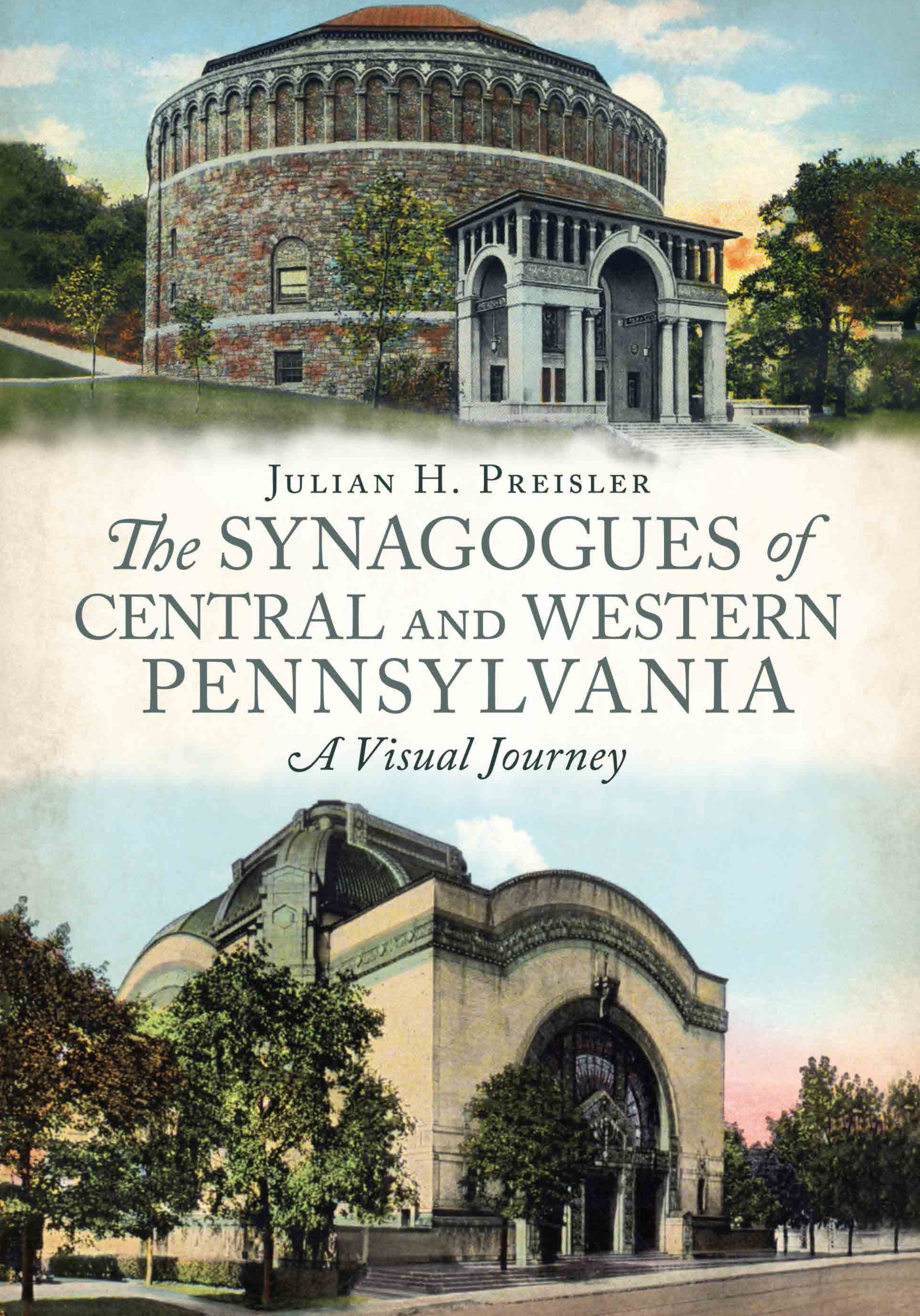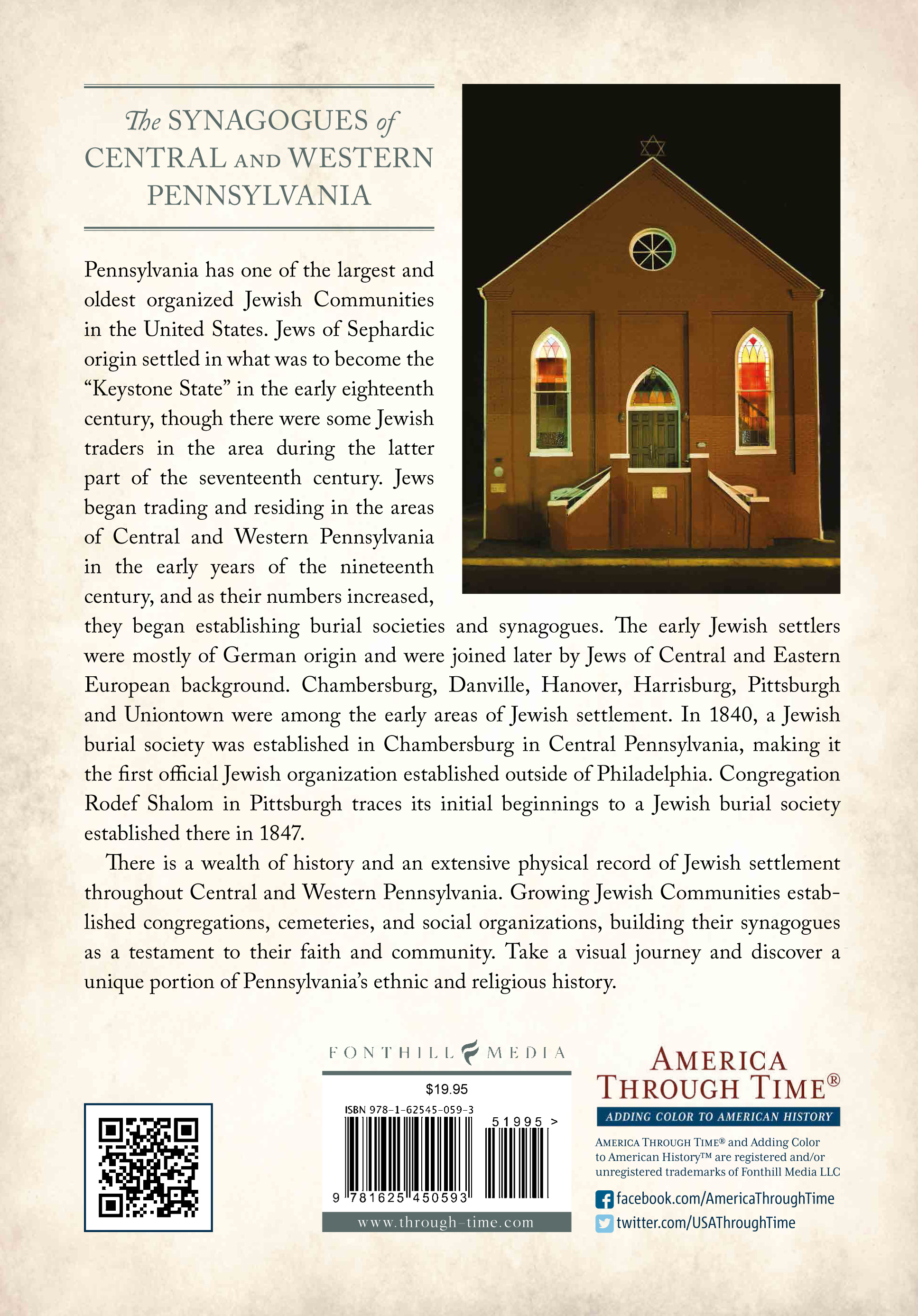 Available through Arcadia/The History Press & also Amazon. Click ARCADIA or AMAZON to order.
Author, researcher and professional genealogist Julian H. Preisler takes the reader on a pictorial journey through the history of the magnificent and varied synagogues of Central & Western Pennsylvania. Featuring 230 beautiful vintage and present-day photographs of current, former and many demolished synagogues, this book is a wonderful collection. The book includes a color section with 32 images. Part history book and part travel guide, the reader will experience beautiful architecture and unique history. A perfect book for anyone interested in Pennsylvania Jewish history, American Jewish history, synagogue architecture and urban history.
Locations featured include: Aliquippa, Altoona, Ambridge, Barnesboro, Beaver Falls, Berwick, Bloomsburg, Braddock, Bradford, Brownsville, Butler, Canonsburg, Carnegie, Chambersburg, Charleroi, Clairton, Clearfield, Coraopolis, Danville, Donora, DuBois, Duquesne, Ellwood City, Erie, Glassport, Greensburg, Harrisburg, Homestead, Huntingdon, Indiana, Jeannette, Johnstown, Kane, Kittaning, Latrobe, Lewistown, Lock Haven, Masontown, McKeesport, Meadville, Mechanicsburg, Middletown, Midland, Monessen, Monroeville, Mount Carmel, Mount Pleasant, New Castle, New Kensington, Oil City, Philipsburg, Pittsburgh, Punxsutawney, Rochester, Shamokin, Sharon, State College, Steelton, Sunbury, Tarentum, Titusville, Uniontown, Warren, Washington, White Oak, Williamsport, York
____________________________________________
Links to Book Reviews & Articles:
Pittsburgh Jewish Chronicle, Pittsburgh Post-Gazette, Chambersburg Public-Opinion and PennLive
Here's What People Are Saying About The Book:
+Parkway Jewish Center, Pittsburgh - " Your book is a terrific representation of Western Pennsylvania's Jewish history"
+Beth Yehuda Synagogue, Lock Haven - "You have truly done a wonderful job.... the photos are beautiful and the words of explanation with them really tell the tale. Thank you for sharing with us all your love of Judaism and its architecture"
+Warren Gross, Miami Beach - "Thoroughly enjoying your book"
+Joel b. Lench, MD, San Diego – "Very impressive"
+Lee Chottiner - Past Editor of the Pittsburgh Jewish Chronicle - "... I enjoyed the book. I'm blown away by the knowledge that Jewish communities existed in towns where I thought no Jews lived (Kane for example)"
+Susan Melnick (Rauh Jewish Archive) – "Mazel Tov – You did a great job!"
+Clifford Rieders, Williamport (Ohev Sholom) - "We are putting it in our library with our most important texts. Thank you for your good work and all the best of continued health and good fortune"
+Barry Rudel, Pittsburgh - "The book is fantastic, in every way. Congratulations on an outstanding job"
For more information on these and other books by the author please visit his "book page" http://www.JPreisler.com/Books.htm. Preisler's current projects include the October 2018 publication of "America's Pioneer Jewish Congregation" and a planned 2018 publication of "The Synagogues of Eastern Pennsylvania both by Fonthill Media.
Connect With Me On: Twitter, Facebook & Google+


© 2009-2017 - Julian H. Preisler